Once upon a time, Yzabel Ginsberg made a deal with the God of Dreams, whom she might have swindled out of a few extra seeds of wild imagination. From her current home in London, this strange French woman always clad in black weaves many webs of stories, whether on paper or through the delicate art of online storytelling. Rumour has it that she will only stop when Death comes to claim her, but even that is less than certain.
You can also follow her antics on these pages:
Jadis, Yzabel Ginsberg passa un pacte avec le Dieu des Rêves, qu'elle a sans doute un peu arnaqué de quelques graines d'imagination supplémentaires. Depuis sa demeure du moment à Londres, cette drôle de Française toujours vêtue de noir tisse bien des toiles d'histoires, que ce soit sur papier ou à travers l'art délicat de pratiquer le conte en ligne. La rumeur veut qu'elle ne s'arrêtera que lorsque la Mort viendra la chercher, mais même cela reste rien moins que certain.
Vous pouvez aussi la retrouver sur les sites suivants: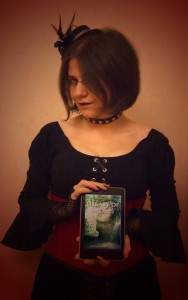 Facebook (account): http://www.facebook.com/yginsberg
Facebook (page): http://www.facebook.com/YzabelGinsberg
Twitter: @YzabelGinsberg
Goodreads: Yzabel Ginsberg
Wattpad: @YzabelGinsberg
Tumblr: http://yzabel-ginsberg.tumblr.com/
deviantArt: http://yzabel.deviantart.com